Max Quest: Wrath of Ra review
We're thrilled to announce that a game with a difference has just made its way to the best online casinos this November 2018, and it's set to take the world of igaming by the storm! Max Quest: Wrath of Ra by Betsoft aims to revolutionize the very concept of slot games and set new trends in this industry. Set in the mysterious underground tombs of Ancient Egypt, Max Quest is a multiplayer video slot which combines elements of console gaming with a real-money (RNG) slot mechanism, and we expect it to appeal to all those fun-loving and adventurous players out there. If this sounds interesting to you, read our review of Max Quest slot below, where we'll share what we've found out about this game so far and let you know which online casinos will be offering it as from this November.
Max Quest Wrath of Ra – how it all works
Max Quest is an immersive, role-playing slot with a cinematic feel. The slot works with just 10 paylines, and up to 6 players will be working their way through underground tombs and firing bullets at a number of enemies. In this game, the bullets will represent the wagers, whereas the enemies will substitute for the traditional slot machine symbols and may reveal a win when they are hit. If you do decide to play Max Quest with real money, players from all over the world will be able to join your mission and help you land on one of those big wins!
When you launch Max Quest, you'll get to customize your own Avatar and select a Game Room, then you'll proceed to buy your bullets and weapons. Each special weapon will have its own pros and cons, and a number of shots that range between 1 and 10. Each game round will then involve enemy targets which you'll see moving across the screen, and which you'll start shooting at. These targets will range from low-paying scarabs to higher-paying Pharaoh mummies. When you destroy an enemy, this may reveal a prize that will help you improve your rating. Each enemy may contain seven tiered prizes, which players will benefit from if they defeat the enemy.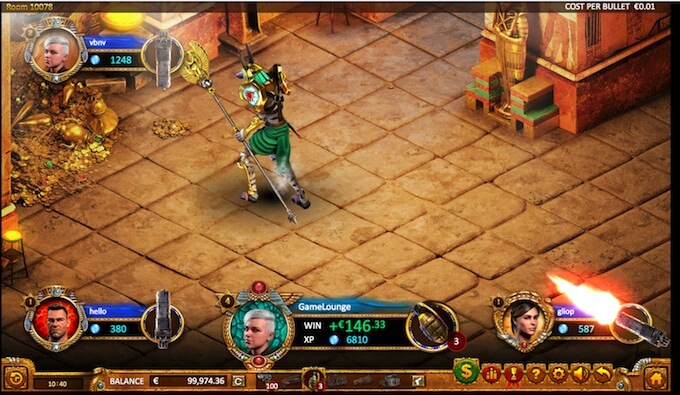 Max Quest special features
Apart from the common enemies, when you play Max Quest you'll also encounter special "Fire Enemies" and "God Events", which will randomly occur to offer players higher-volatility targets. The Risen Fire Enemies can result randomly when you defeat a Common Enemy, and the more shots (wagers) they take, the bigger the chance of getting a prize. The maximum payout to be got in this way amounts to 5000x the cost per bullet! At the end of each round, players may also be randomly rewarded with a God Event. During this event, a Pharaoh God will appear which all players in the room will be able to destroy together. Once he is defeated, players will get a huge treasure chest with collectable treasure as well as cash prizes. These prizes will be distributed to players based on their contribution to the number of shots they fired during the round that lead up to the God Event.
Every player is given a standard weapon, which he or she will then have to purchase bullets for. Players can also buy special weapons via treasure chests, and also win these special weapons at random if they destroy a target enemy. Special weapons don't use regular bullets and will constitute "free wagers". They can be used at any time during the round when they're purchased or won by clicking on the weapon icon. What's more, each special weapon will come with an increased potential of destroying an enemy target and of unlocking a higher payout from the defeated enemy. This is based on the weapons' "Shot Strength" star: whereas standard weapon bullets will have a shot strength of 1 star, special weapons will have a bigger number of stars. Among these weapons, you'll find the plasma, the laser, the machine gun, the grenade and the shotgun.
Last but not least, players will be assigned Quests as they play. They will have to collect a set number and types of treasures, defeat different types and numbers of enemies in order to get more experience points. These quests will range from easy 1 Star quests to difficult 5 star quests that will require them to hunt down rarer treasures.
Max Quest Leaderboard
Yes, you've heard correctly. There will be a leaderboard linked to Max Quest, and those that rank highest will earn cash prizes, in-game improvements and more! As they play, players will be awarded Experience Points which will increase their player level and improve their ranking on the leaderboard. 2% of all stakes in each game will go towards a prize pool to be divided among players according to their ranking. We've also been informed that the individual operators will also be able to tailor leaderboard prizes, so that players will win different prizes depending on the online casino they play Max Quest slot with.
It's important to stress that despite the shooting that will be going on in this game, Max Quest slot will not involve any strategy or skill; its payouts will work according to a Random Number Generator, which is the software that randomizes all outcomes for slots. Even if you don't hit a target, the bullet will bounce around the room until it eventually hits one. So whereas the gamification is extremely innovative, the mechanism at work will be the same as the one behind all other online slots. You won't even require any additional gadgets to play Max Quest: your desktop or mobile will be all you need!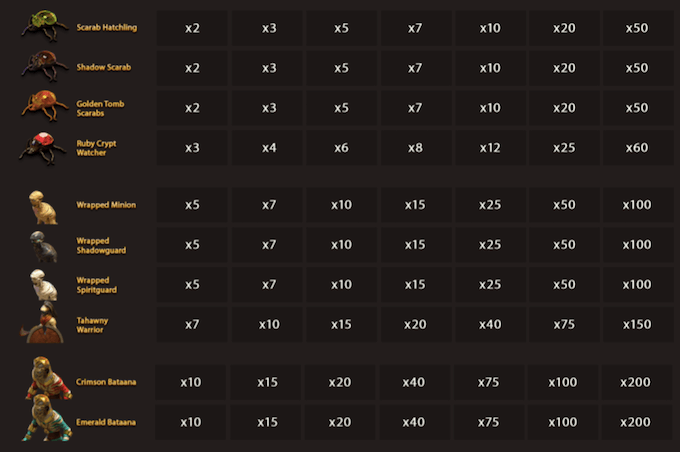 Max Quest slot bonus
If you're hoping to play Max Quest slot with a bonus, we believe there's very good reason to be optimistic. This slot is so innovative that online casinos which already offer Betsoft slots will probably run special promotions on it. What's more, we suggest you join a casino which offers one of the best casino welcome bonuses 2020, in order to play Max Quest slot with some bonus funds. At the moment, you can play Max Quest Wrath of Ra only at a couple of casinos; our top recommendations are Dunder and Mr Green casino, which will both welcome UK players with a good welcome bonus.
Where to play Max Quest slot
Max Quest slot min/max bets, RTP, volatility and maximum win
We don't have much information about the bet sizes one may place on Max Quest yet, although we do know that there will be adjustable coin values that will activate 1 to 10 paylines. The game has an RTP of 96%, whereas the maximum win amounts to 5000x the stake and will result from defeating the Fire Risen Mummy. We shall be updating this review in this regard once we have more information.
Max Quest slot graphics and sound
Max Quest will lure you with its high-quality graphics and its cinematic feel. It looks just like a video game and we're sure you'll delight in watching the enemies running around the screen, especially those reanimated mummies and pharaohs which will make their vengeful way out of their sarcophagi, as well as the visual and sound effects that will result as you hit the targets and unlock the prizes.
Max Quest slot – Our Conclusion
Betsoft is marketing Max Quest Wrath of Ra slot as a game which will pave the way for a 'new era in gaming', and from what we've learnt so far, it seems that this slot will really transcend all genres. We have no doubt that a lot of players will enjoy playing Max Quest, although it still remains to be seen whether or not it will be worth playing for real money. That said, the fact that it will come with customizable leaderborads will provide plenty of opportunities for casinos to run rewarding tournaments on this game, and we have to admit that the instant cash prizes sound pretty tempting. We'll just have to wait and see how this Betsoft adventure will unfold!