Aviator is one of the first crash games to have hit the online casino market. It was released by Spribe, an Estonian iGaming company, in February 2019.
The goal of Aviator is to hold the multiplier for the longest period possible. Doing so can grant you wins of up to £10,000. Learn more about how with this Aviator crash game review.
What you will find in this Aviator Review
The minimum/maximum bet: Information about the minimum and maximum bet.
RTP: The game's RTP rate. As you will already know, the higher the RTP rate, the better.
Autoplay option: The game's autoplay option and how many automatic spins/rounds it offers.
Game Features: The types of features the game has and what rewards they're likely to give you.
Graphics & sound: What the graphics and sounds are like.
Aviator Statistics
Getting started on the Aviator crash game is incredibly easy. The following table presents everything you should know about the game's bets, maximum win, RTP, and more. Check it out:
| Aviator Stats | |
| --- | --- |
| Minimum bet | £0.10 |
| Maximum bet | £100 |
| Maximum win | £10,000 |
| RTP | 97% |
| Autoplay | 👍 |
| Free Play | 👍 |
| Features | Chat, Statistics, Autoplay, Rain Promotion, Free Bets |
Bets and maximum win
You can bet between £0.10 and £100 on the Aviator crash game. To change your wager, click the plus and minus buttons located on the bottom part of the game's HUD. Alternatively, you can use the presets to increase your wager by £1, £2, £5, or £10.
The game's maximum win is limited to £10,000 per round. This means that, depending on your stake, payouts can range from 100x to 100,000x the player's stake.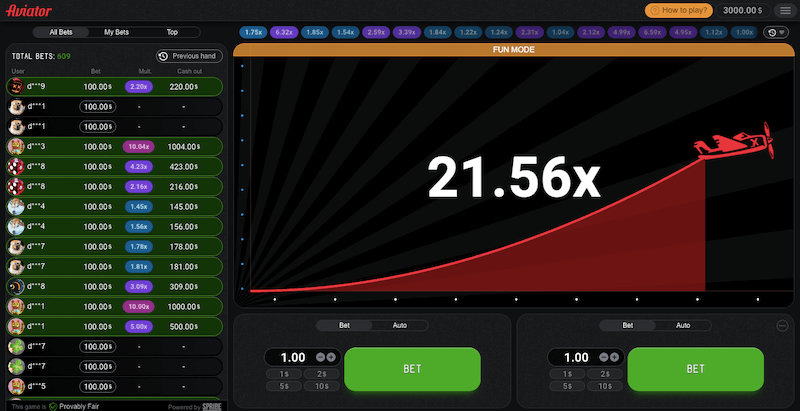 RTP
The Aviator crash game has an RTP of 97%. This is on par with other crash games on the market. However, it's worth noting that the RTP is calculated from billions of rounds, which means that returns aren't guaranteed and may vary between players.
Autoplay
The Aviator crash game has an extensive autoplay menu. To open it, click on the small "Auto" button located above the "Bet" button and then press "Auto Play". The autoplay feature allows you to select up to 100 rounds and create wins, losses, or single-win limits.
It's easy to see why the Aviator crash game is so popular
Even though it's simple, Aviator offers entertaining gameplay and potentially high payouts. It has a very fair RTP, a wide range of bets, and a high maximum win of up to £10,000.
Game Features
The Aviator crash game may feel simple, but in reality, it has a few exciting additions that can be extremely helpful. Get to know and see how they improve your gameplay experience:
This feature is available through the autoplay menu. It allows players to set an automatic multiplier at which their bet is cashed out. For instance, if you enter 2x, the game will automatically cash out whenever the current round's multiplier reaches 2x.
Crash games are also social games, and Aviator is no exception. You can toggle the in-game chat feature to talk with other players from all around the globe. You can exchange ideas and even strategies to help you manage your bankroll.
The bet feed provides information about the other players' bets and wins. And the best part is that you can click the "Provably Fair" button to verify the bet's legitimacy through the blockchain instantly.
In addition to live bets and wins, players can also check the current standings. The Aviator crash game offers in-depth information on the daily, weekly, and monthly winners. You can sort them by the maximum win and highest multiplier.
Spribe allows online casinos to add exciting bonuses to the Aviator crash game. The main promotion is a feature that randomly adds free bets on the chat. To claim one of these offers, all you have to do is click the "Claim" button that shows up.
Spribe also allows casinos to randomly give out free bets to players through promotions or giveaways. This lets you play the Aviator crash game without making a deposit.
Graphics And Sound Of Aviator
Aviator is known for its light graphics and animations. This makes the game compatible with any device, regardless of speed or operating system. The soundtrack has a futuristic tone and features a few sound effects, including a plane taking off and the typical flight cabin chime.
| | |
| --- | --- |
| Graphics | 2D |
| Optimised for Mobile | 👍 |
| Music | Futuristic |
| Special features | Chat, Live Bet Feed, Auto Cash Out, Statistics, Bonuses |
Simplicity is key in the Aviator crash game
Aviator proves that simple graphics and sounds can still create an enjoyable experience. This also means the game is compatible with a wide range of devices.
How to play Aviator
Playing the Aviator crash game is straightforward. To get started, select your stake, click the green "Bet" button, and wait for the round to begin.
Your goal is to hold the multiplier for as long as possible before the plane flies away. If it does, you'll lose the money staked. To cash out, click the orange button. You'll receive a payout equal to the multiplier's value when you clicked to cash out.
Solutions To Common Issues
Whether you're playing classic slots or modern crash games, issues can happen with online casino games. Try these solutions if you find issues with the Aviator crash game:
If Aviator stops working, restarting the game should fix the issue.
Please contact your casino's customer service team if restarting doesn't let you continue the game.
Remember that wins or losses due to bugs and errors void all payouts.
Aim For The Skies With Aviator
Aviator is one of the first titles that come to mind when we think of crash games, and for good reasons. It offers simple yet potentially rewarding gameplay thanks to a fair RTP rate and payouts of up to £10,000.
It also has many additions designed to make it a social game, including a live bet feed and an in-game chat feature. Therefore, we decided to rate it 9/10.
Crash Games Similar To Aviator
Frequently asked questions
Yes. Multiple licensed UK online casinos now offer the Aviation crash game; check our site for recommendations
Yes. Aviator relies on a cryptographic technology known as "Provably Fair". It outputs results by combining seeds from players and secure servers so the information can't be manipulated.
You can win up to £10,000 in the Aviator crash game. We think that's pretty impressive.