Dragon Kingdom - Eyes of Fire review
Low volatility
96.49% RTP
Unique bonus reel
Dead spin reward
Dragon Kingdom Eyes of Fire spirits you away to the legendary hoard of the great beast. In this lair, you are sure to win with a 96.49% RTP and low volatility. Expect detailed artwork, easy to learn features and a surprise hidden in your dragon eggs in this 3×3 video slot. Find out everything you will need on your adventure in our review, and challenge the mighty dragon for a rewarding payout.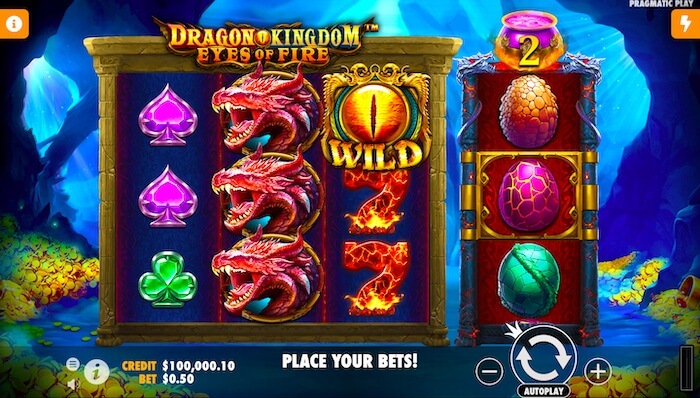 Game Name
Dragon Kingdom: Eyes of Fire
Provider
Pragmatic Play
Volatility
Low
RTP
96.50%
Features

Free Spins
Wild Symbols
Multipliers
Scatter Symbols

Paylines
5
Reels
3
Min Bet (all lines covered)
£0.05
Max Bet
£25
Top Win
x1250
Play Dragon Kingdom: Eyes of Fire from the UK?
Embark on a quest to find the Eyes of Fire in the dangerous Dragon Kingdom, lots of rewards await the brave of heart. If you have the courage to face the dragon, then you might want to try out this game at one of the below UK casinos! So go ahead and check our list of online casino reviews. 
Dragon Kingdom Eyes of Fire symbols and payouts
Pragmatic Play goes traditional in this reptilian slot with three reels by three rows and five paylines total. Winning matches start from left to right, focusing mostly on the side to side matches with only two diagonal options. An extra fourth reel is applied, though only for bonuses. The dragons chose a simple hoard, only featuring the bare necessities with little frills.
Symbols
Pragmatic Play's dragon slot features a grinning blue dragon, a roaring red dragon, a fire touched 7 and jewelled card suits. Alongside the base, symbols are a wild, shaped like a dragon's eye that glares at your screen whenever it's rolled.
Paytable
The two dragons are the mascot symbols, with the red dragon earning you a modest £1.50 while the blue nets you £2.00. The wild is the symbol to shoot for at the highest amount of £2.50, while the remaining card suits offer you minuscule change.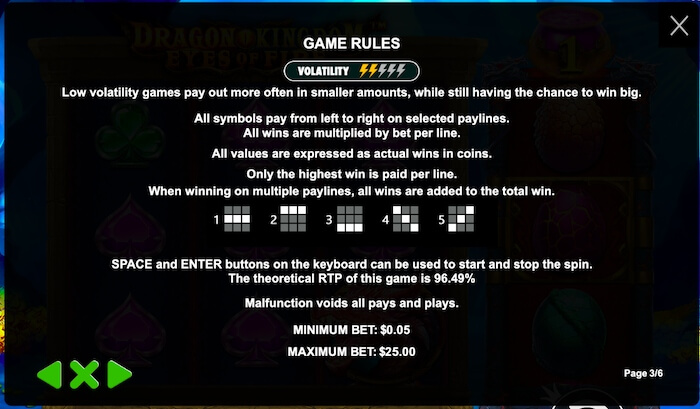 Dragon Kingdom Eyes of Fire min/max bets
The lowest bet is £0.05 credit in total or £0.01 per line. The maximum bet remains low, at £25.00 credit with 10 coins per line at a value of £0.50. This slot is perfect for casual players wanting to bet without breaking the bank, but it remains lacklustre in its payout.
Dragon Kingdom Eyes of Fire RTP, volatility & hit frequency
Low stakes are the name of the game when it comes to Dragon Kingdom Eyes of Fire, which seems odd with its intense dragon theme. The RTP is a quaint 96.49%, meaning the payout will usually match what you invest. Volatility is on the low end, though lower risk seems to lower the overall reward. A winning spin comes at least once every 25 spins, though not guaranteed.
Dragon Kingdom Eyes of Fire maximum win
The maximum win in this slot is a bit tricky to trigger, as it relies heavily on its unique but finicky dead spin multiplier. Your max bet of £25.00 has a chance of being multiplied at 1,250x the original bet, but only if you have achieved over 25 dead spins to trigger the multiplier reel and score a top paying wild. This means the best way to win big is to lose big and pray.
Still, the RTP and low volatility both mean that you are likely to get out of the game what you put in. This makes the slot very tame, which contracts the ferocious dragon imagery.
Dragon Kingdom Eyes of Fire features
There are no surprises in this dragon's den. The game is powered by simplicity, with a single straightforward wild and a fourth reel multiplier. Though the multiplier is on the unique side, it's easy to understand the key to hatching the eggs once you start spinning.
Wilds, Respins and other base game features
Simplicity seems to be key for Dragon Kingdom Eyes of Fire. With no free spins, bonus games, or thrilling animations to rely on, this slot keeps it simple with basic wild and card suits. A dash of spice comes in a fourth reel that acts as a multiplier, though it only triggers after four losing spins.
Wilds
A single wild in the shape of an eye, one that looks suspiciously loud of the Rings-like, is your top paying symbol for this dragon slot. Its base payout is £ 2.50, and it has a cute animation of looking around when triggered. Yet, the animation is the only life breathed into this symbol, as it does little more than look ominous.
Dragon Egg Multiplier
It sounds more exciting than it is. The fourth reel looks pretty, showcasing a hoard of ready to hatch dragon eggs under a bubbling cauldron. Its purpose comes after your fourth losing spin, which triggers the reel to land on a multiplier randomly. The longer your dry spell lasts, the higher your chance at receiving a multiplier of x10, x20 or even a startling x50. However, seeing the number of your losing spins tracked while you play can quickly become disheartening.
Dragon Kingdom Eyes of Fire special features
Dragon Kingdom Eyes of Fire features a unique spin on a multiplier reel. The reel will spin for a random multiplier after you rack up four dead spins in the form of dragon eggs. The maximum multiplier takes effect after 25 dead spins, offering the chance at a hefty x50 multiplier. The slot tries to reward you for dead spins, but the long dry spells quickly become tedious and boring.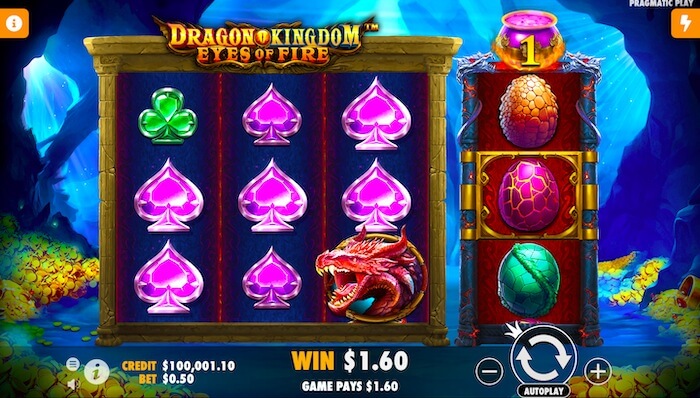 Graphics & Sound
Enter the dragon's lair, filled with riches of old ripe for the taking. The dark cavern colour scheme is offset by the slot symbols' bright and vivid colours, making the dragons truly come to life. The ambient noises are decent, making the sound of a dragon's roar after each spin. The music is quaint, not too exciting with its beating drums but enough to set the tone. However, the overall vivid art style proves more exciting than the gameplay itself.
Other slots to play if you like Dragon Kingdom Eyes of Fire slot
If you enjoy battling dragons like an ancient hero of yore but want some more features to spice up your game, check out these slots below! They are sure to satisfy your dragoon's greed.
Dragon Kingdom by Pragmatic Play, RTP 96.47%
Double Dragons by Yggdrasil, RTP 96.1%
Dragon Born by Big Time Slots, RTP 95%
Dragon Kingdom Eyes of Fire Review – Conclusion
This slot is perfect for beginner players or casual betters. It shows you the ropes of a basic slot with a pretty theme, detailed artwork and a low risk per roll. It introduces a unique multiplier based on dead spins and is pleasant enough to play. However, for more serious players or those looking for something new, this slot offers little appeal. It can get boring quickly, with limited bonus features to keep you interested in spinning. There aren't even that many dragons, which is disappointing to any fantasy adventure enthusiast. The game also includes a few bugs, namely crashing when you try to adjust your bet, and clumping text together when you read the settings info.
It's not a bad slot, but one easy to pass up on for more exciting and more rewarding betting experiences. Pragmatic Play offers a more quality experience with their prior title the Dragon Kingdom, making the sequel a bit of a letdown. Play for fun or low stakes, otherwise turn your attention to more exciting and payout-worthy dragon slots.