Becoming a master at playing one of the most popular and most played card games in the world is something that requires consistency and patience.
We'll make sure you're equipped with just the right amount of knowledge to help you become a pro at Blackjack.
Master the Rules & Odds of Blackjack
In a game of Blackjack your focus should always be on the dealer, regardless of how many participants there are in the
The Objective
The objective in a game of Blackjack is for the value of your cards to equate to 21 or as close to 21 as possible before the dealer and to not go over (bust).
Card Values
Each card in a game of Blackjack has the value equal to the number on the card. However, if it's a face-card, it will have a value of 10, whereas an Ace card will carry a value of 10 or 1, depending on the game.
The table below is an illustration of this example.
| Card | Value |
| --- | --- |
| 2 | 2 |
| 3 | 3 |
| 4 | 4 |
| 5 | 5 |
| 6 | 6 |
| 7 | 7 |
| 8 | 8 |
| 9 | 9 |
| 10 | 10 |
| J | 10 |
| Q | 10 |
| K | 10 |
| A | 1 or 11 |
The odds
Blackjack is considered to have the best odds out of other Live casino games, and with a lower House Edge; generally somewhere between 0.5 % to 1 %.
The odds are likely to lean more heavily in your favour the more decks are used in a game of Blackjack, and this will further increase your chances of scoring a high payout.
Depending on what Blackjack game you are playing, there may be more or fewer card decks used as there is no one rule when it comes to how many decks a game of Blackjack should consist of.
It is useful to know that the number of decks used in a Blackjack game will affect the House Edge and, as mentioned earlier, your chance of winning a payout.
Here is an illustration of how the number of decks affects the House Edge at a casino:


Understand all Side bets
If you're unfamiliar with the term "Side bets", there is no need to fret. We've got you covered.
Side bets are essentially extra bets that "predict" what cards the player, or dealer, will be dealt.
These bets are placed during a regular game of Blackjack and based purely on chance rather than how skilled a player is at the game.
Here's a breakdown of the side bets that exist in online Blackjack games:
1. Blackjack insurance
The Blackjack insurance bet is the most commonly used side bet and is a bet that gives you the opportunity to protect yourself against the dealer potentially getting an Ace face up-card.
This type of side bet involves half of your original bet.
2. Perfect Pairs
This side bet uses only the player's cards, and pays out if you receive the following two of a kind pairs:
Mixed Pair (pays 5:1) – the cards have the same value but differ in suit and colour
Coloured Pair (pays 12:1) – the cards have the same value and colour
Perfect Pair (pays 25:1) – the cards are identical
3. 21+3
This side bet focuses on the player's two cards plus the dealer's upturned/exposed card. Here you'll get a payout if you bet on the following combinations:
Flush (pays 5:1) – three cards with the same suit
Straight (pays 10:1) – a combination of three cards following a sequence, like 5, 6 and 7 (regardless of suit).
Three of a kind (pays 30:1)- the cards don't have the same suit
Straight flush (pays 40:1)- the cards follow a numerical order and have the same suit
Suited Triple/Suited Three of a Kind (100:1) – three cards with the same suit and value, like Queen of Hearts, for example.
4. Bet Behind
This side bet involves you placing a bet on the player's hand instead of your own hand. A Bet Behind side bet may be viewed as rather risky, as you have no control of the player's decision or hand.
5. Royal Match
When a player is dealt suited face cards A Royal Match is won. The payout is usually 5:2, but the player stands to receive a payment of 25:1 for a suited King and Queen combination.
6. Over/Under 13
The rules of this particular side bet may vary from casino to casino, but what it focuses on is predicting the sum of the cards the player's dealt cards; whether the sum is greater or less than 13.
It is important to note that landing a 13 won't necessarily equate to a win. There are, however, some casinos that count this as a win.
7. Super Sevens
If you are dealt one ore more 7s during a game of Blackjack, you'll be one lucky winner!
These are the different ways in which such a side bet pays out:

One 7 pays 3:1
Two unsuited 7s pays 50:1
Two suited 7s pays 100:1
Three unsuited 7s pays 500:1
Three suited 7s a massive 5000:1
8. Lucky Ladies
If the player's cards equate to 20, then you get a payout!
An unsuited card will pay out 4:1
A suited card will pay out 10:1.
A matched 20 with the same rank and suit will pay 25:1
Two Queen of Hearts will pay 200:1
Two Queen of Hearts against a dealer's Blackjack will pay an impressive 1000:1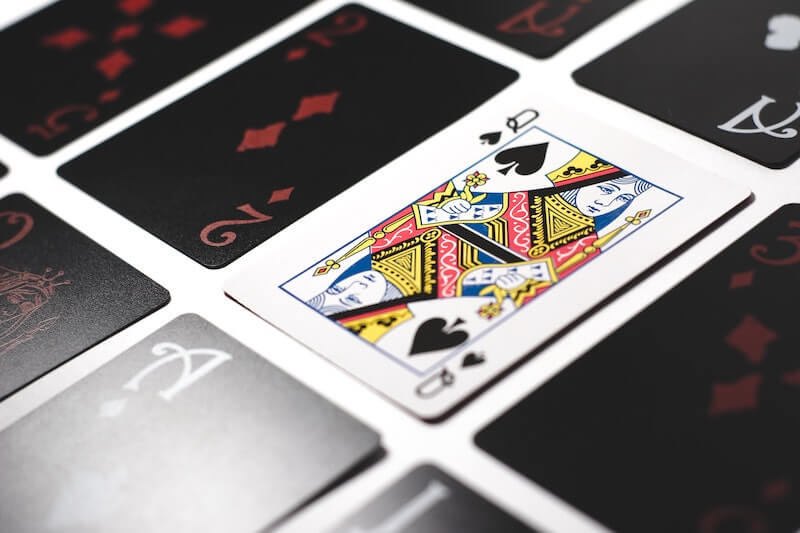 9. Honey Bonus
This side bet is considered to be similar to the 21+3 side bet. Winning this side bet depends on the two cards you've been dealt and the dealer's face-up card.
10. Lucky Lucky
The Lucky Lucky side bet focuses on your first two cards, as well as the dealer's face-up/exposed card.
You'll be rewarded if your first three cards are a Blackjack or as close to a Blackjack as possible. In this case, 19, 20, or 21 are all considered winners, and you get paid extra bonuses for suited hands, 6, 7, and 8, and three 7s. Any other hand is a losing hand.
19 pays 1:1
20 pays 2:1
21 pays 4:1
Suited 21 pays 20:1
3 7s pay 100:1
11. Top 3
This side bet focuses on the cards you've been dealt and dealer's face-up card. The winning hands in this case are a Three of a Kind, A suited Three of a Kind, and a Straight Flush.
This bet is usually followed by a large payout, as demonstrated below. However, winning might be tricky as it includes two extra side bets.
Three of a Kind pays 90:1
A Straight flush pays 180:1
A suited Three of a Kind pays 270:1
12. Hot 3
This side bet can be found in the Infinity Blackjack game by the popular Live casino game provider Evolution Gaming.
It is similar to the Lucky Lucky side bet, as it rewards players for hands with values 19, 20, and 21.
13. Buster
This side bet focuses on the dealer going bust. Your payout will be higher depending on the number of cards there are in the dealer's hand when they go bust.
In this case, you can win for hitting a Blackjack and for betting on the dealer going bust.
How to play blackjack – Breakdown of a round
Here is a list detailing what you should think about before diving into a fun game of Blackjack.
While some points may be obvious, we still ask you to make sure you read through all the points.
1. Fund your Balance
This may be the most obvious point of all, but before placing a bet on a game of Blackjack, you need to make sure that your funds are in order. Make use of your favourite payment method at the casino you're playing at, and you are ready to roll!
2. Place your wager
In most games of Blackjack there is a minimum and maximum bet, however, these will vary from casino to casino and table to table.
One thing you should keep in mind, is to always play responsibly, and if you would like to read up on how to do that, we've got all the pointers you need on our Responsible Gaming page, so make sure you take a short tour around the page at some point.
3. The Dealer will now deal the cards
Once everyone on the table has placed their bet, the dealer can start dealing the cards. Each player will receive 2 cards, and the Dealer will give himself only one card, for now at least.
The dealer gave me a Blackjack!
"Great! You now have the strongest hand possible. You can relax and wait until the dealer draws his last card to know what you won. You can jump on the step n°6."
The dealer gave me cards that triggered my side bet(s)!
"Nice! You have already won some of your money back. But the game still continues. Let's see now the next step"
Time to make a decision!
Now that you are familiar with the rules, the value of each card, and the odds, take some time and try to evaluate your chances of winning if you Stand, Hit, Double Down, or Split.
As mentioned a little earlier on, the outcome of the game also depend on these decisions, and the game may stop or continue based on these decisions.
Damn, I busted!
Don't be too sad about losing in a game of Blackjack. It happens to the best of us. The rules are that if the value of your cards exceed 21, you lose and will be out until the next round of Blackjack.
Still in the race
If the total value of your cards is close to 21, and you haven't been asked to leave, you're still in the game, so let's keep going!
While it may be fun trying to navigate a game of Blackjack on your own, there's usually a lot at stake, in terms of bets and side bets, and therefore reading up on Blackjack isn't a bad idea, especially since it will provide you with an advantage in the game.
Have a look at our Blackjack Strategy page to make yourself familiar with Blackjack.
5. Dealer plays hand
This is the moment of truth, as the dealer will draw their last card once you, and everyone else around the Blackjack table, has made their decision.
There are a few possible outcomes in this case, and they are:
The dealer goes bust: everyone who is still in the game wins
The value of your cards is lower than the dealer's: you lose
The value of your cards is equal to the dealer's: it's a draw
The value of your cards is higher than the dealer's: you win
6. Payouts
We're sure you've been waiting for this section to come around, and now it finally has. Payouts is any Blackjack player's favourite part in a game of Blackjack, and if you happen to be a winner, these are some of the ways in which you might expect your payout to look like:
If you won with a Blackjack served right away, you win x1.5 of your wager
If you won with a normal hand, you win 1:1 of your wager
If you won after doubling your bet, you win x2 of you accumulated wager
If you won after splitting, you win 1:1 for each hand
If you doubled down on a hand after a split and win, you get x2 of your wager
Frequently asked questions
There are several licensed online casinos across the UK offering fun and rewarding versions of Blackjack. Which online casino you choose to play at is entirely up to you. Have a look in our directory if you are unsure.
The tips and tricks we have provided in this article are there as reference, but will in no way guarantee you a win. Our best advice is to use the tips we've provided to build your skills.
There is nothing that says you can't win in a game of Blackjack purely because you're a beginner. If luck is on your side, and you put your skills to good use, you could land a potential win.