Twitch is an online streaming service which is operated as a wholly-owned subsidiary of Amazon.com. It was launched in 2011 as a spin-off of the general-interest platform justin.tv, and was originally used for live streaming of video games.
Nowadays, Twitch is growing increasingly popular for online casino streaming, streams of various creative processes, and even music broadcasts. The content streamed on the Twitch platform can either be viewed live or on demand.
Since Twitch casino streaming has grown in popularity in recent years, we thought we'd provide a detailed guide about this great live streaming platform for both casino fans and others who are simply interested to learn more about Twitch.
So whether you're just wondering how to start a stream on Twitch and build your followers, or you're simply interested in discovering new games via Twitch, this article is for you!
Twitch casino streaming
When it was founded back in 2011, Twitch was more popular for broadcasting video games, but soon enough online casino players discovered that this platform could serve as a handy tool for sharing their gaming experiences.
This is because thanks to Twitch casino streaming, players can see how a game is actually played out and discover its features without having to stake any of their own money. Twitch streams can also provide insight on how a casino bonus works so that those thinking about joining a casino can see someone else claim the bonus before he or she deposits.
How to watch a stream on Twitch
In order to watch a stream on Twitch, all you need to do is head to the official Twitch website and search for a channel or subject in the search bar. You will be able to see that a channel is streaming live via the 'live' icon at the top left corner of each channel that results. You can also view live streams via the Twitch mobile app as well.
Creating a Twitch account is optional if you're just a viewer, however having one would help you keep track of all the streamers you are following, chat to them and receive push notifications when they go live.
How to start a stream on Twitch
To start streaming on Twitch, you need to create a free Twitch account, which you can create in a couple of minutes on the Twitch website. Your next step is then to download a Twitch streaming software, which is a software program that you will connect to Twitch for any broadcasts.
Twitch streaming software
Twitch streaming software allows you to capture, encode and publish video content to Twitch. Twitch recommends several types of downloadable software, such as Game show or Live Gamer extreme. For Twitch casino streaming, there is also free software you can make use of, such as Open Broadcaster Software (OBS), which we think is the perfect choice for beginners.
Once you've downloaded your chosen streaming software, you have to connect it to your Twitch account. You will need a Stream Key to do this, which you can access via the Twitch Dashboard by clicking on the Stream Key tab. You are then required to enter this stream key in your Twitch streaming software.
Next, you need to play with the settings of your streaming software and also create an appealing Twitch layout, preferably with on-screen chat to be able to interact with your viewers. You'll find many instructions online on how to set up your channel according to your chosen Twitch streaming software.
The end result is that you'll have a Twitch Channel, and therefore be able to start your first stream on Twitch! Once you do this, ensure you have a few practise streams and use the Twitch Dashboard to view and monitor your stream.
Twitch settings
Once you have a Twitch account, you'll be able to play with settings for videos, chat and design, to mention the most crucial ones.
You may choose an image to be displayed on your Channel video player when you are offline, warn users that your content is intended for adult audiences (particularly if your content relates to Twitch gambling), and control various settings related to chat (block hyperlinks, enable email verification and also set up chat rules for your channel). You may also invite other broadcasters or your friends to stream on your channel through the Authorized Broadcaster setting.
If you're simply a Twitch viewer, you can also play around with the Twitch notification settings, in order to receive notifications by email or opt-out of these altogether. There are also various Twitch settings related to your profile, such as display name, your profile picture and bio. It's all pretty basic once you get down to it.
What are Twitch Communities?
Twitch Communities is a tool to connect viewers and streamers together depending on viewers' interests. There is a Community directory where you may find the most popular Twitch Communities (for example casinos, communities centred around popular esports games, etc). If you don't find one that matches your interests, you can create a new community.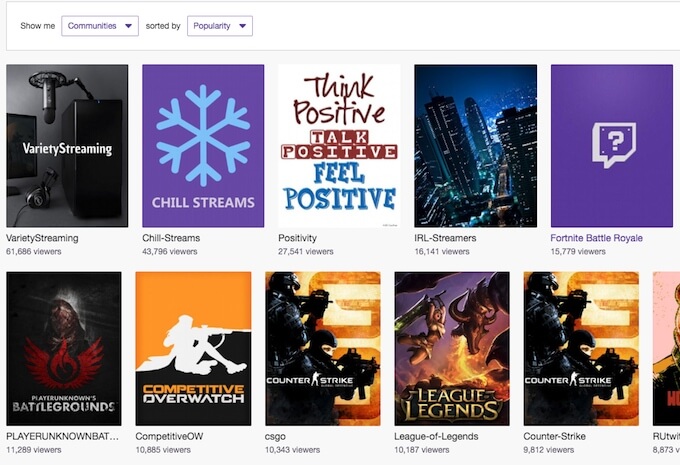 How much do Twitch streamers make?
Streamers get to share any ad revenue made via their channel with Twitch, in a similar way that people make money on YouTube and other platforms. As they gain more and more Twitch followers, they may also get sponsorship deals. Streamers can also become Twitch Affiliates or Partners if their stream is popular enough to generate a profit. The requirements are currently as follows:
a minimum of 50 followers over the last 30 days
at least 500 total minutes broadcast
7 unique broadcast days, and an average of 3 or more concurrent viewers.
Twitch affiliates get 1 cent for every bit used to Cheer in their channel. Bits are a digital currency purchased by viewers with Amazon Payments and are used to make micro-donations to streamers in order to support a particular channel. The process works very much like a donation or tip to streamers from viewers. In return for their small donation, viewers get more attention in the chat.
The most important source of revenue from Twitch is that streamers get from paid Twitch subscribers. Viewers may subscribe by paying $5 a month in order to benefit from some unique features such as custom emotes or ad-free viewing. This revenue is then shared between Twitch and the streamers 50/50.
In the casino industry specifically, popular streamers may also get paid from the online casino they play with, for giving it exposure and sending new depositors. Conditions for generating revenue can vary; some receive a fixed payment for advertising, some streamers are casino affiliates, and others may get bonuses in return. Streamers also earn money via sponsorships deals or ads on Twitch.
How to get Twitch followers
Now that we know how important it is to get viewers on Twitch in order to generate revenue, we'll take a quick look at how you may get Twitch followers. If you'd like to build a following, it's important to focus on a niche and stream content that generates a lot of interest.
It's also important to interact with your audience since this is what Twitch is all about and what viewers are after; if you don't, they could be just watching a video recording on YouTube. To use twitching for slots as an example, it's not enough to spin the reels; you should also seek to comment, joke and interact in a way that most appeals to your target audience.
The most successful broadcasters on Twitch are those that either offers very unique content or those who have a great, charismatic personality (ideally both of these!). Plan your streams well (while leaving some room for spontaneity), and also focus on your presentation skills.
Getting viewers on Twitch can take a while, and during this time you could be streaming even with 0 visitors. When you're not streaming, try to participate in other streams related to your niche. Not only will you learn from these more popular streamers, but their viewers can also get to know you, and might watch your streams when those other streamers aren't live.
Another tip of ours is to be consistent with your Twitch streaming. The more you stream on the same days and times, the more chance there is that viewers will return to your channel.
What is Twitch Prime?
Twitch Prime is a new component of Amazon Prime which you may get as a subscriber to Amazon Prime in order to benefit from a number of perks while using Twitch. You may also try it out for free together with Amazon Prime for 30 days if you're not a subscriber. Benefits of Twitch Prime include:
Ad-free viewing experience on Twitch.
Free Twitch channel subscription every 30 days to support your favourite streamers.
Access to free game content.
Exclusive savings on physical games from Amazon.
Use of exclusive emoticons.
Expanded chat colour options.
Member-Only Prime Chat Badge.
Free in-game content.
Free monthly games.
Twitch gambling – the new use for Twitch
Twitch gambling is, quite simply, when Twich is used to broadcast gambling activities. These could be either online slots or table games such as Roulette and Blackjack. The streaming allows viewers to watch the streamer play in real-time with an online casino, by staking real money and can help them determine whether a game would be to their liking or not. Twitch gambling can be fun and entertaining, as the streamers are normally fun-loving people with a great sense of humour.
Using Twitch for slot games
Twitch can be a very useful service when it comes to discovering new online slot games. This is because you can never be sure whether a slot demo version that you try out for free will pay out the same way when you start playing it for real money, or how much a particular in-game bonus is likely to pay out once triggered.
Players, therefore, find it useful to watch others play a slot game with real money first. Many online casino affiliates have started to stream slots on Twitch for this very reason, giving rise to Twitch gambling. We highly recommend following a few streamers if you're into slot games, since the choice of slot to play can really affect how much you win in the long run, and Twitch offers the best way of seeing how a slot plays out.
Twitch vs YouTube gaming
Another alternative for casino streaming would be the YouTube gaming platform, which has proven to be a strong competitor for Twitch since its launch in 2015.
While both streaming platforms work well for slots and incorporate a comments section allowing viewers to comment in real-time, Twitch includes more features, such as voice and text chat rooms, and an AutoMod tool that can block or flag inappropriate message.
On the other hand, YouTube is more suited for users looking to upload or view an edited video. Yet one advantage of using YouTube Gaming over Twitch streaming is YouTube's in-stream DVR, which allows anyone to start watching live stream after it has already started. On Twitch, you can only watch what you've missed out on after the content has been archived.
That said, we feel that Twitch offers a more genuine interactive experience in casino streaming since YouTube focuses more on recorded video, which somehow distances the content producer from the viewers. We also found the Twitch interface to be more user-friendly, and great for discovering new channels and communities.
Yet again, both platforms have a slightly different focus, with YouTube being more suited for those who'd like to chill while watching a video or live stream, while Twitch is great for those who are seeking more interaction.
See for yourself with Twitch!
Twitch has gained so much popularity because it offers a way of witnessing various processes in real-time, and people have found this to be extremely useful in various areas.
Whether you'd like to watch an artist or designer do his work, or you'd like to see an online casino game being played out by a real person, you'll get a really good idea of how something works, while also being able to interact with the streamer and viewers with similar interests. For this reason, we believe that Twitch is here to stay, so now's the time to get into it. Be a part of the Twitch network and start enjoying the possibilities it has to offer!